Hogging out the body. After rough cutting the body and finding no hidden flaws, I used a large forstner bit to remove the wood fast. Now for chiseling, scraping, and sanding.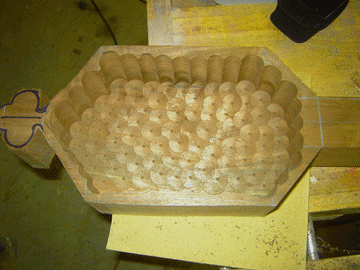 Top view of the body being hogged out. Forstner bits make interesting patterns, y'know?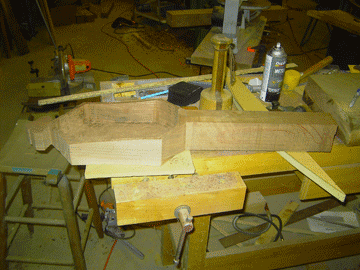 Tapering the soundbox. The soundbox is tapered to the front, the instrument has a high bridge more like a violing than a guitar, and the fingerboard is horizontal. So the body is thinner at the front than at the rear, so that the bridge will be at the height of the fingerboard.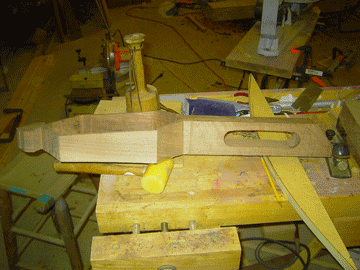 Now the thumbslot is cut. This allows you to play the instrument and still leaves enough wood on the neck to prevent warping and bending (they didn't have adjustable truss rods for instrument necks in the 14th century). This is the basic shape of the instrument - lots of detail tweaking, but this is the basic shape.
This is the end of day 1. More tomorrow (Tuesday, Nov 8)
Day 1
Day 2
Day 3
Day 4
Day 5
Day 6
Day 7
Day 8